McBritton Farms is dedicated to having our chicken humanely and minimally processed at a USDA facility. We then get them directly to our customers as fast as possible. Feel good about your food knowing we are face to face with them everyday. Everyone should know where their food comes from.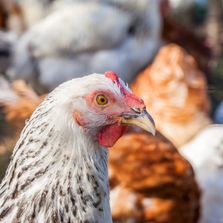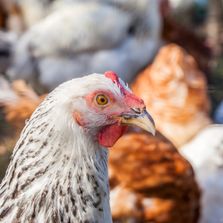 Why McBritton Farm Chicken?
Our chickens experience the following lifestyle:
Non-GMO and Gluten Free feed with no MSG's from #HilandNaturals!
#HilandNaturals is Americas premier Feed.
*Tested and Guaranteed Non-GMO
*Tested and Guaranteed Herbicide Free
*Tested and Guaranteed Pesticide Free
*Guaranteed No Medication
*Guaranteed 100% #USA Produced
#BetterFeedMakesABetterBird
#Whatsinyourfeed = #Whatsinyourfood
Pasture Raised with Sunshine, bugs, and grass.
Vaccine free
Protected from predators
Country music playing 24/7
Processed at a local certified USDA facility
Available vacuum packed whole or cut just like the local grocery
Money back satisfaction guarantee
Licensed and Insured
Chicken: (3.5-6lbs/chicken)
Whole – $4.00/lb.
Cut 8 way – $4.50/lb.
Turkeys – 15-25 lbs. $100/bird
(approximate weight of your choice)
#OurChickensOnlyHaveOneBadDay
McBritton Farm's products are served in local restaurants including The  Q Smokehouse, Table 14 and Timbers in Ludington and the Jolly Plate north of Scottville.
Categories: Food/Farm
Amber Township
757 S Brye Road
Ludington, Mi 49431
(231) 690-5841 (Cell)