A Slice of Ludington History, Jamesport Center is a late Victorian six storefront complex. The earliest section was completed in 1890 and was occupied by the Red Andrews Saloon and the Central House Hotel. It was built by August Tiedemann, a noted local builder and architect, for two Swedish brothers, "Red" Andrew Johnson and Axel Johnson. It largely served sailors of the Great Lakes during the booming days of logging in Western Michigan.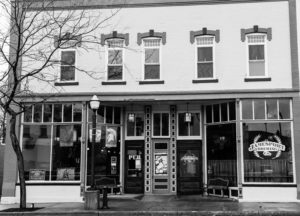 In 1892 a second structure with decorative cast iron columns was added.(Now, entrance to Sunset Bay Antiques.) It served as the lobby of the Central House Hotel and provided a dining room, upstairs parlor rooms and additional bedrooms.
In 1905 the final four storefronts were added to provide apartments for the employees of the recently completed Star Watch Case Co., then located on nearby Rath Street. The ground level store-fronts of the buildings have been used for a wide variety of trades over the past 120 plus years, including a butcher shop, a millinery, a theatorium, a dry cleaners, a hardware store, a clothing shop, various furniture stores, the State Liquor Control Commission store, a bicycle shop, the local headquarters for the National Maritime Union, and currently, Sunset Bay Antiques and Jamesport Brewing Company.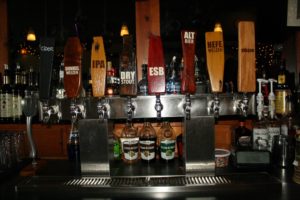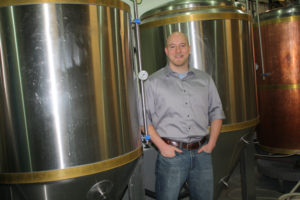 Our Head Brewer is Pat Saxton. He has worked in the brewing operations side of the restaurant for over 10 years. His employment with Jamesport started on Dec, 2002 as a bus boy/host. He worked himself up through the ranks to server, bartender, and manager. During that time he also worked as assistant brewer. In the spring of 2015, Pat attended the Siebel Institute of Technologies World Brewing Academy and received a certificate for completing the Concise Course of Brewing Technologies.  Pat credits much of his work ethic and skills to our previous Head Brewer, Tom Buchanan who he worked under and alongside for most of 10 years. He looks forward to continuing our tradition of creating great craft beers for Jamesport customers.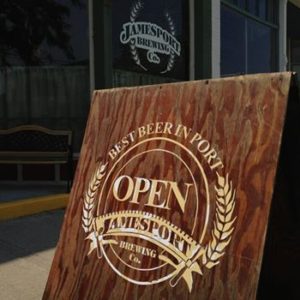 Call 231-845-2522 or Visit www.jamesportbrewingcompany.com for hours.
Categories: Food/Farm
Downtown Ludington
401 S. James
Ludington, MI. 49431 United States