Pic's & Wic's was established in May 2015. We are a small, family owned artisan candle company located in Ludington Michigan. Our goal in starting Pic's & Wic's was to make a quality, highly scented soy candle but keep our prices reasonable…to make soy candle that we would buy and enjoy burning. Each one our candles are individually hand crafted using 100% soy, premium fragrances and 100% cotton or wood wicks.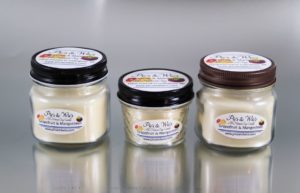 When you purchase a Pic's & Wic's Candle you can expect to enjoy a quality scented soy candle with a clean burn. Our large 8oz candles will burn clean for 40+ hours and our mini 4oz candle will burn for 20+ hours! Our wood wicks give it that extra special touch with the light crackling of an open fire. We pour in small batches to keep our inventory fresh.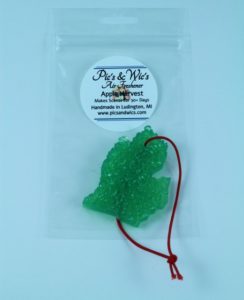 Our air fresheners are made from aroma beads and will last 4 to 6 weeks once out of their bag. Customer satisfaction is extremely important to us, so unless we're 100% satisfied with our work, it won't go out the door. ​If you do purchase a product from us and you are not 100% satisfied, please contact us. We are always trying out new fragrances, so check back often to be kept informed on our new scents, specials and events.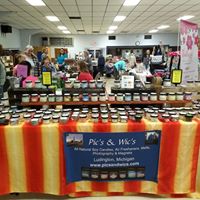 When you make a purchase from Pic's & Wic's, you are supporting a local small business and we thank you.
Pics and Wics products are available locally at these Made in Mason County
Stores and Galleries
And At,
AGS Something Different
111 E. Ludington Ave.
Ludington, Mi.  494431
Lake Michigan Car Ferry Gift Shop
www.ssbadgerstore.com
Historic White Pine Village Gift Shop
www.historicwhitepinevillage.org
1587 Lakeshore Dr.
:Ludington, Mi.  49431
Categories: Arts/Craft, Miscellaneous
Mason County