The inspiration for Love Wines came from Jana's parents who built a small vineyard and winery at the site of her childhood home with the help of their family. They put a lot of hard work into the construction and Jana learned a lot about the wine industry while she was helping to plant the  vineyard. The plan paid off as Valley Mist Vineyards in Rose City is a wonderful place to visit and try some of their wide selection of wines.

After Nathaniel's service in the U.S. Army ended, he and Jana got together and partnered in their own winery adventure. Over the 3 plus years in business, growth has been steady and they hope to one day plant a small vineyard on their own family farm.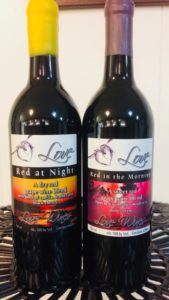 My Love of Wine as a vintner

I am attracted very much to the simplicity of wine as a beverage. You don't have to follow a recipe to make wine. You take the fruit of the earth (any fruit at all will really do) and figure out the qualities of the fruit. You add a few ingredients, make sure the fruit is clean and stored away from the air, and voila, you have wine.
I have always liked to mix my art with a little science and wine making is just that. There are few rules to making wine. I can take what the Earth has given me and go with it.
You will find interesting flavors at Love Wines like Razzelberry, Black Cherry Frontenac, Jasmine and Canteloupe Vignoles and Strawberry Peach Lemonade. I am always excited to try something new and look forward to coming up with more exciting taste experiences in the years to come.
Love Wines are available at our store at 215 S. James St. and at Shop N' Save and at P.M. Expeditions.
Categories: Food/Farm
Downtown Ludington
215 S. James St.
Ludington, MI. 49431 United States