Our story began as three busy moms and wives, loving the process of being creative and healthy. We enjoyed gardening, raising honey bees and chickens, and creating chemical-free cleaning products for our families. During one of our times together, we began to dream. We began to research and discover the wonderful benefits of beeswax for the lips and skin. Soon we created our very first tube of lip balm. (and thankfully, practice and diligence make perfect!) It started simply, with clean ingredients and hard work. We now have the opportunity to create lip balm from our hive to homes everywhere.
You can find our complete product line on our website, www.sisterbees.com
From Our Hive to your Home,
Sister Bees
Kim, Amber, and Kelly
All Natural Lip Balm
---
Are you looking for a moisturizing lip balm that glides on smooth, and leaves your lips feeling renewed and refreshed? Sister Bees All Natural Lip Balm is the answer! It is made from all natural ingredients, including beeswax and NO CHEMICALS OF ANY KIND! (including the flavorings….it's all natural) This fan favorite is sure to not disappoint!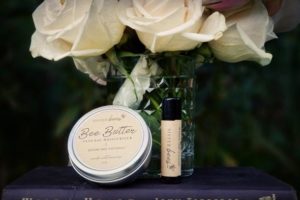 Bee Butter
---
Did you know that beeswax is antibacterial, antiviral, and a natural ingredient for healthy skin? Bee Butter repairs your skin and is a miracle worker for eczema, Diaper rash, cuts, bites, burns, cracked heels, and more.  Plus, because Beeswax does NOT clog pores, it is THE perfect, silky, daily skin moisturizer. (Even on your Face!)
Bookmark
210 S. Rath
Ludington
My Sisters Closet
115 W. Ludington Ave
Ludington
West Shore Market
707 W. US-10
Scottville
and (seasonally) at Maude's
302 W. Ludington Ave.
Ludington
Categories: Miscellaneous