Healthy home-baked treats, gift baskets, and merchandise for dogs and the people who love them. 'Good Stuff for Good Dogs and Dog People.
Cosmic Canine Creations was born in October of 2013, when I grew tired of working in the financial sector after 26 years. I've always had dogs in my life and love them for the wonderful creatures that they are. The saying goes that a little knowledge can be a dangerous thing, so after I began learning about what actually was in a lot of the dog treats sold in stores, I knew I could do better and began to produce my own out of our kitchen in Garden City, Michigan. I became licensed by the Michigan Department of Agriculture and started out really small, selling on Facebook. Things got interesting when my husband Mark and I moved up north to Ludington, Michigan in June of 2015. On the suggestion of our local SCORE group (who is affiliated with our Chamber of Commerce), I decided to open a storefront in early 2016. We rented a REALLY SMALL space, bought some equipment, and the Cosmic Canine Creations store officially opened on July 1st, 2016.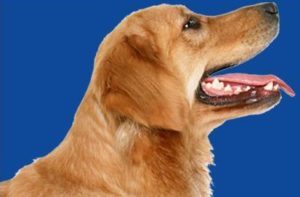 At first, business was pretty slow, but the word got out that there were some pretty yummy things going on at 307 S. James Street…of course, it helped that I left my door open to the outside so dogs and their owners could enjoy the fragrances of peanut butter, cinnamon, and other tasty ingredients as I baked my treats. Since Ludington is a beach town, summer is CRAZY with tourists, and a lot of them found their way to the shop. The following spring, we had the opportunity to expand our space, so we nearly doubled our square footage, adding more treat varieties and cool merchandise for dog people–but we were still pretty small. Fast forward to now (spring 2018), and we're expanding again! All of our treats are made with human-grade ingredients, NO wheat, corn, or soy EVER, and we use organics wherever we can. But most importantly, our treats are made with love. We want your dogs to enjoy our treats as much as our dogs do.
Current lineup includes Peanut Cinnamon Woofies; S'Mittens; Nuts Over 'Nanas; Sweet Tater Blossoms; Punkin Snaps; Arie's Blues; Puppy Bites; and birthday cakes.
 All treats are made from human-grade ingredients, with no wheat, corn, or soy EVER, and utilizing as many organic ingredients as possible.
You could eat them yourself, but your dog wouldn't like it if you did!
Categories: Miscellaneous
Downtown Ludington
307 S. James St.
Ludington, Mi. 49431 United States